FAST, SMART, ELEGANT & AFFORDABLE
Our INNOVATION SUCCESS SOLUTION™ provides a sleek and simple way for participants to discuss, create, brainstorm and prioritize ideas aligned to your key business objectives. Because impact scores are built in, program managers can easily prioritize the most viable products and solutions.
Total solution comprising Idea/Innovation Management, Collaborative Project Management, Feedback & Survey Management, Collaborative Assessments, Event Management and more, including an integrated visual ideation tool (Interactive Whiteboarding) to enable remote collaboration.
Bring innovation conversations to your own internal social platform.
Keep participants engaged and informed by 

fostering an innovation culture beyond the occasional idea challenge or hackathon.

Provides

ever-improving analytics such as 

Innovator Profiles that 

use IBM Watson and Innovation Minds' proprietary AI Engine

to 

measure every user's growth with every interaction.

Seamless integration with your back office systems & collaboration tools.
Our INNOVATION SUCCESS SYSTEM™
takes ideas from input to completion

Our patented Solution uses the "IBM Watson" AI tool to learn how each user innovates and generate individual INNOVATOR PROFILES.
Talent Development can use this feedback to help employees strengthen their innovation competencies and put together teams with the greatest balance and synergies.
Combine these Profiles with aggregated data to include goals, skills, learning records, recognition and innovation participation.
Use the Profiles for Predictive Team Modeling leveraging AI/ML.
Derive surface data-driven Talent Coaching insights.
Use Profile Matching to define Talent Succession.
Everyone. Everywhere. ALL THE TIME.
the Innovation SUCCESS SOLUTION™
Enterprise Portal
Welcome to your one-stop-shop for Enterprise Innovation. Log in using your company's credentials to find all the programs you have been allocated. From this one page, you'll have access to multiple business scenarios: Employee Innovation Programs, Hackathons, Continuous Improvement, Open Innovation, Event Management, Feedback Management, Citizen Engagement and many other applications.
Provide one centralized platform showing multiple programs, each tackling a different innovation use-case.

Offer secured Single Sign On (SSO) for quick employee login.

Deploy on-premise or via a secured Cloud environment.
Program Portals
Each Program's landing page shows clearly what the Program is about and engages participants to take action.
.Pages are accessible from anywhere, optimized for all devices – laptops. desktops, tablets and Smartphones.
Provide your teams attractive landing pages for each specific program with built-in access rules and customised branding.

Get started quickly with templates for each use case built on best practices.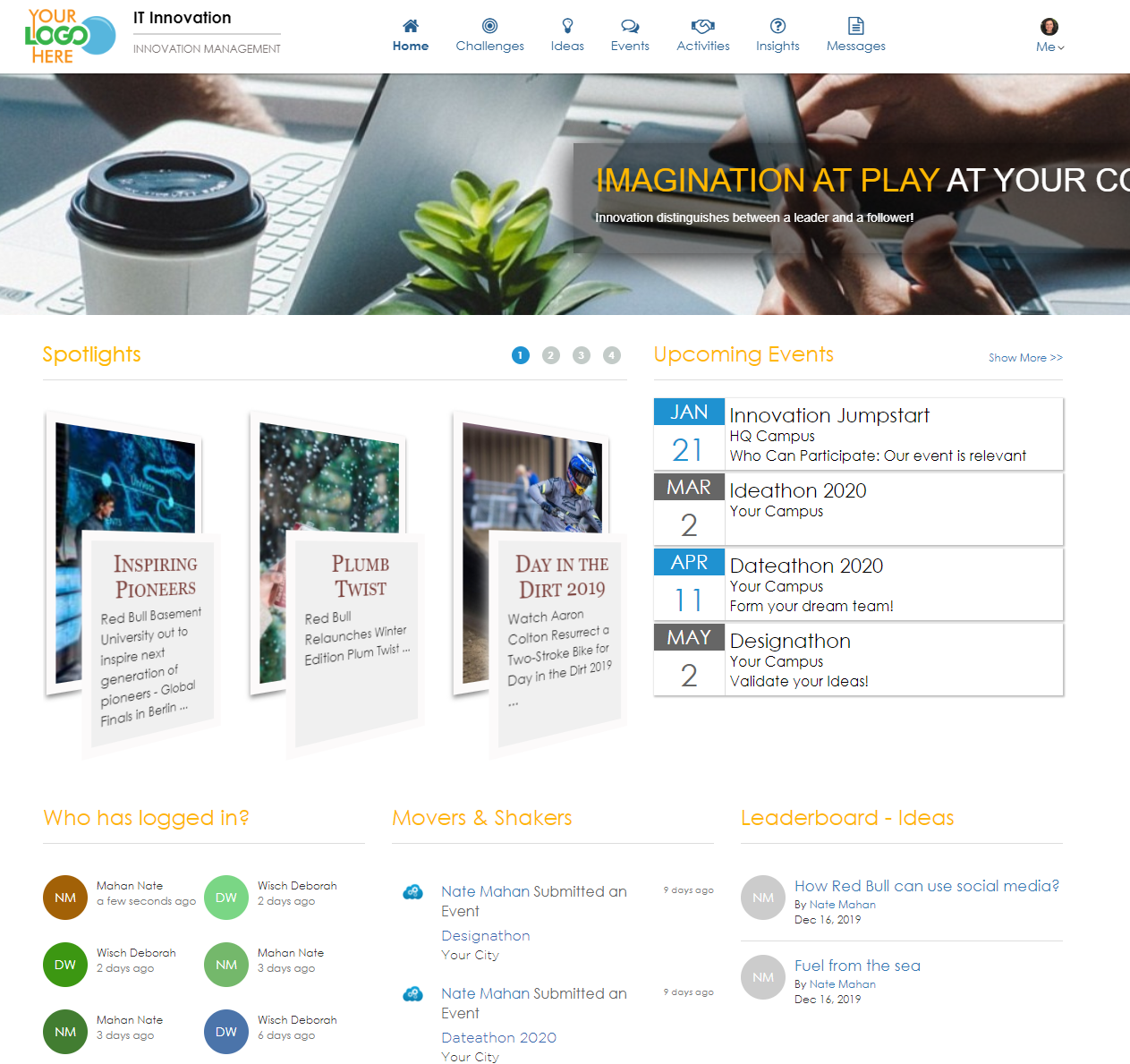 'How Might We' Challenges
Share thought-provoking Challenges to get your community communicating.
Everyone has a point of view, especially when you offer them a choice of diverse topics across a range of exciting subjects.
The Innovation Minds Challenge feature appeals to that appetite to promote collaboration and achieve INNOVATION AT THE EDGE.
Publish focused Challenges that align your  innovation program to organizational goals.

Offer a "Challenges to Ideas" two-way relationship that allows easy and effective tracking and reporting alignment.

Promote employee engagement with 

simple-to-use design based on familiar social tools.
Idea Hub
Save your drafts, submit your ideas, interact with colleague's ideas and subscribe to any set of ideas that interests you.
You can configure the widgets however you wish and can customize the overall layout in tiles or as a list.  
You can also design the array of data you collect and maintain for Idea entry.
Configure the idea submission form however you wish using templates with custom fields.

Offer crowd voting, gamification and social functions to build better ideas together and have fun doing it.

Implement best-practice evaluation processes using configurable wizards that suits your needs.
Feedback/Survey Tool
Collect vital feedback from constituents on any Challenge, then collaborate with stakeholders using the feedback to devise an action plan.
Invite, collect, segment, and synchronize the feedback flexibly and with ease.

Produce detailed analytics and insights for the solicited feedback.

Discuss, follow, promote and move forward with a well-reasoned and supported action plan.
Event Manager
Manage your events with ultimate flexibility including events administration, social features, RSVPing, confirmation and reminder emails, roster reports and printing of tickets. It's your company's own Meetup and Eventbrite rolled into one!
Fully coordinate and staff local and global events.

Integrate RSVPs, calendar invites, waitlisting and check-ins.

Offers robust event analytics across a wide variety of information and categories.
Secured Messaging
Empower all site users to interact with each other while keeping their email address and other contact details private. 
Secure all discussions related to Ideas and IP.

Communicate in real-time and build team collaboration among all program users. 

Easily keep track of all messaging and user activities in one place.

Integrate with your existing Slack and Teams channels.
Activity Feeds
Keep employees engaged and Innovating at the Edge with our Innovation Snacks feed.
They will find it easy to use as it is similar to the well-known Facebook Feeds feature.
Innovative ideas will flow and productivity will rise. 
Offer bite-sized innovation updates on mobile devices to keep your community connected.

Engage your workforce through real-time alerts reporting on the "movers and shakers" of the network.

Provide your teams with an experience that is pleasant to use to promote easy adoption and make communicating about innovation part of their daily workflow rather than something special and extra being added to their plates.
Interactive Reports
Track your organization's program engagement, contributions, power users and trending topics with our prebuilt, on-demand reports.
Measure and understand your user activity and maximize participation.

Use pre-built reports or build your own reports.

Share your reports and data sets with your other internal systems using API support.
Admin Tools
You have total control over the portal,  including user management, system configuration, and program management.
Innovation Minds makes it easy for you to create, edit or inactivate any specific program or audience.
Manage the platform centrally for best user management, access and security.

Maintain system-wide configuration and customization from one single place.

Create new programs on the fly to address all of your organization's innovation needs.
Innovator Profiles
Our INNOVATOR PROFILES allow users to track their own progress as well as for the system manager to view the profiles of all employees.
The profiles provide flexibly complex Personality Insights for every user, powered by the powerful AI engine IBM Watson.
We've also pioneered a concept called the "Innovation Score" that tracks and rewards each user's engagement throughout all parts of the portal.
The Innovation Score can also help stimulate positive competition through gamification. 
Use built-in AI/Machine-Learning engine to generate Innovator Profiles for each participant that continue to refine through ongoing platform use.

Maximize your employee engagement using gamification.

Mix and match innovation competencies to assemble and coach winning teams.
"Know My Organization & Talent" Insights
Drill down or drill up your organization's hierarchy to review each employee's engagement and contribution.
Track organization-level engagement and contribution to the program via direct reports.

Course-correct swiftly and easily for best results and happy teams.

Customize your KPIs to show or hide points of interest to you specifically.
Idea Insights
Review user engagement and contribution at the functional level, such as by department, location, country or by employee level.
This will empower you to keep your innovation program inclusive, diversified and impactful.
Measure and review the excitement, engagement and innovation performance across a diverse set of possible factors.

Achieve an overview of your progression across a variety of data points through rich dashboard pages.

Customize your KPIs to show or hide points of interest to you specifically.
"Idea KPI's" Insights 
Make better and faster decisions by looking at innovation program KPIs for your entire team or organization. You can customize the view very flexibly based on your priorities and needs.
Monitor your organization with powerful KPI & ROI Tracking.

Compare and contrast your team's innovation progression against the overall company KPIs.

Customize your KPIs to show or hide points of interest to you specifically.
Book your Innovation Minds demo now and we will contact you shortly to book a convenient time. The demo can be 25 minutes or 55 minutes, depends on your needs. We don't share your info. It's step one of our TOP SECURITY promise.